Mark your calenders for the following events at Roosevelt: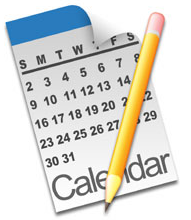 Monday, October 7
If you haven't already done so, please turn in your money for the chocolate sales. The PTA has to pay World's Finest for all of the boxes taken, so that money needs to be deposited in the PTA account. The list of students that qualify for free dress every Friday are being worked on, so watch for news about that.
Tuesday, October 8
Permission slips due for students in grades 6, 7, & 8 that want to run for Roosevelt Student Council
Thursday, October 10
Speeches and elections for Roosevelt Student Council
Friday, October 11
6th grade parents need to turn in a $50 deposit for the trip to Yosemite
Important Dates…
October 12 – rcef OctobeRun (more information below)
October 15 – Site Council Meeting at 6:30pm in Room 14- Note start time changed due to district Kinder Night
October 15 – Kindergarten Information Night at MIT at 5:30pm for 2014/2015 school year
October 21 – PTA Meeting at 6:00pm in Room 14
October 23 – Restaurant Fundraiser Night – Pasta Pomodoro
October 24 – Halloween BoxTops sheets due!
October 24 – Spooktacular Bingo at 5:30pm (2nd grade families volunteering) Note date change
October 25 – Teacher Training Day – No School
October 30 – Picture Make-up Day
October 31 – Halloween Parade at 8:15 – Downstairs Playground
November 7 – 8th Grade Parent Information Night at Sequoia High School at 6:30pm
Cardboard Boxes…
The school garden committee is looking for cardboard boxes to put down all over the garden. If you have any cardboard boxes to donate, please drop them off at the school office or contact megan goulden at megan.goulden@gmail.com for more info.
OktobeRun…
Once again the Redwood City Education Foundation (rcef) is sponsoring a 1/2 Marathon and two 5K races on October 12 in downtown Redwood City. The second 5K is a "Kolor Run" (or walk) – at each 1K point, participants will be blasted with non-toxic colored powder. Participants can run or walk in any event. If you are signing up for the Kolor Run, Roosevelt has a team – the Raccoon Runners! So make sure you sign up under our team name when the sign up form asks for your team name. Any student that runs/walks in any of the OktobeRun events can wear their OktobeRun t-shirt to school as part of the school uniform. To register, go to  www.oktoberun.com
Box Tops…
Don't forget to send in your Box Tops on the pumpkin sheet that came home in last Thursday's folder to get a treat! Each Box Top earns our school 10¢, so each sheet turned in earns $1.00 for our school. Right now we have just over 600 students at Roosevelt, so we could earn $600+ just for turning in those sheets!
Supplies Needed for Middle School Exploratory Wheel Classes…
Our 6th, 7th and 8th graders spend the last hour of the school day in classes such as Creative Writing, Photography, DIY Science, Game Strategy & Design, etc. These classes are all taught by the Middle School teaching staff, but the district doesn't have the money to purchase extra supplies. Please take a look at the list of supplies needed and see if there's something listed that you can donate. Go to: Call for School Supply Donations
6th Grade Families…
If you haven't done so already, please send in your $50 deposit for the May Yosemite trip. Roosevelt has to give the Yosemite Institute a headcount of students attending and a deposit to hold our space in the next few weeks. Checks may be made out to Roosevelt PTA. You may also pay via credit card in the school office or with the Donate button on the parent blog.
Middle School Parents…
Applications for the Roosevelt Student Council went home in last Thursday's folder. Each classroom will elect two student council representatives to work on school events such as: Spirit Days, Book Fair, Holiday Food Drive, Fundraisers, Talent Show, Middle School Dances, Assemblies and Community Events. Permission slips are due by October 8.
Online Directory…
The 2013/2014 school directory is going green! We've switched to an online directory to save money on printing costs and to save paper. You will be able to access the directory from your home computer, smart phone or tablet. You can also update your family information any time during the year. The system will "graduate" your child every year, so you only have to enter the information just once. Each year you just need to verify that your information is correct.
Go to:  https://www.myschoolanywhere.com/new-family.a5w?fam=RooseveltSchool13838
Fill out the information for each Roosevelt student in your family
In the "Family Display Note" please fill in any languages spoken at home
Hit Save  — You're all done!
**If you tried to fill out the form earlier and were given an error message, please try again. The problem has been fixed!**
Spooktacular Bingo…
Mark your calendars for Roosevelt's 4th annual Spooktacular Bingo Night!  Thursday, Oct. 24th from 5:30-8:30. Doors open at 5:30, with our Pumpkin/cake walk beginning at 5:30.  Come in your favorite Halloween costume!  Pizza, popcorn, water for $1.00 each. 2$ for candy. Bingo will begin at 7pm.  .50cents per game. Pumpkin/cake walk, face painting, and Bingo with fabulous prizes! (Please note: The date has been changed due to the school holiday on Oct 25 and the availability of our bingo callers) Speaking of our bingo callers, what will Mr. Williams and Mr. Anderson come dressed as this year? Come to bingo night to find out!
If you are a 2nd grade parent, make sure you've signed up to help with this event.Please contact Kim Schiff at kbschiff@sbcglobal.net if you can help, Thank you!
PTA Membership…
It's not too late to send in your PTA Membership form! Our PTA's dues to the CA PTA are due in November, so we can still accept memberships. Membership dues help to pay for insurance and for support services from the district, state, and national PTA. The cost is $5 for an individual membership and $8 for a family membership. Checks may be made out to Roosevelt PTA.
On the Parent Blog…
Pictures for the blog are starting to come in! This week we'll be adding pictures from the 2nd graders study of balance and motion, Ms. Vawter's & Mr. Anderson's class from last year at their CST celebration party at Red Morton this weekend, Ms. Parkhurst's class studying seeds for their Stayin' Alive PBL unit, the 4th grade field trip to Sutter's Fort in Sacramento and the middle schoolers in their exploratory wheel classes. If you have any pictures from your child's  classroom that you'd like to submit, please send a message to trishreillytaylor@gmail.com. We're also happy to post art or any classroom work that your student is proud of.
Spiritwear and 100%ers…
If you filled out one of the pink order forms for spiritwear to get your items in a Roosevelt shopping bag, please stop by the office to pick up your order. If you received a letter for your 100% donation and hadn't received a goodie bag or raffle ticket, please stop by the office to pick it up. If you would like it sent home with your child, please contact guytaylor123@yahoo.com
"Like" us on Facebook…
Please be sure to "Like" the Roosevelt page to get school and district updates and pictures from Roosevelt school events in your news feed.If you've liked our page, but don't see any updates in your news feed, it's because Facebook has been using a formula that hides posts for pages that don't pay for sponsored placements. What can you do? Go to our Facebook page and hover your mouse over the Liked box. Then make sure Get Notifications and Show in News Feed are checked. www.facebook.com/RooseveltElementarySchool
Have a great week!