8th Grade Parents…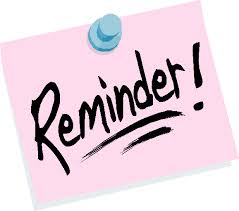 Tonight is Woodside High School's Parent Night at 7:00pm in the Performing Arts Center. This is a meeting for parents to find out about Woodside's academic program, athletics program and activities. You will also find out about available dates to have your 8th grader shadow for a day at Woodside High School.
4th Grade Parents…
Reminder that your child needs to arrive at school no later than 7:15am on Thursday, October 3 for the field trip to Sutter's Fort in Sacramento. The bus will leave without your child if he/she is not there on time.
Chocolate Money Due…
Thursday, October 3 is the last day to turn in money from chocolate sales. Please send your envelopes with $60 per box of chocolate with your child or drop them off in the school office. Thank you!
Common Core Meeting…
The first of a series of parent meetings about the new Common Core standards is scheduled for Thursday, October 3 at 7 p.m. at the District Office at 750 Bradford Street. During this meeting we will discuss changes in K-2 instruction and learning, and the new report card.  We will also focus on the district-wide changes in grades 3-8 in English Language Arts, Science and Social Studies.  Child care and Spanish translation will be provided.
Free Dress…
Friday, October 4 is Free Dress for all students!
Coffee with Principal Girardi…
Parents are invited to come and meet with Principal Girardi over a cup of coffee and snacks at 8:00am on Friday, October 4 in Room 1 (the room across the hall from the school office). Hear first hand about district and school news, talk about any issues or concerns you may have or just come for the coffee. This is also a great opportunity to meet other Roosevelt parents! This is a very casual meeting so if you can only drop in for a few minutes, you're still welcome to attend. Spanish translation is available for those that need it. If you have a younger child, you are welcome to bring him/her. Tell a friend!