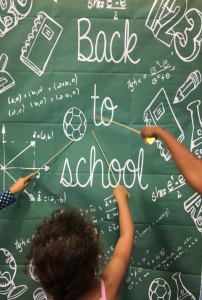 Where did the summer go?  With Maze Days next week (Aug 15 and 17) and the first day of school (Aug 21) the following week, it's time for our first update of the year:
Info Packets
Prior to Maze Days, you will receive a packet in the mail.  Please read through it and bring the packet with you to the school on your assigned Maze Day (see below).
Maze Days
At Maze Days you'll receive your child's class assignment, ensure your registration is complete, have the opportunity to purchase Spiritwear (including school-approved uniforms, t-shirts, etc), donate to the PTA Enrichment Fund, sign-up as a PTA event volunteer, and sign up for the school lunch program.
TK-4th Grade: Tuesday, August 15th, 3:30pm – 6pm
5th Grade – 8th Grade: Thursday, August 17th 4pm-6pm
Supply Lists
Back by popular demand, we've posted our student supply lists by grade, and provided one-click buying options from Target and Amazon. Check it out here.
PTA Enrichment Fund Donation
This year, we're moving to a family-based pledge target of $250. You can learn about the amazing programs and services the PTA provides here, but in short these funds go towards:
Education Outside: Science Education in our beautiful garden space
Family Fun Nights (Dinner Dance, Spooktacular Bingo, Movie Night)
Enrichment (Lunchtime Chess, Girls on the Run)
Technology Upgrades (eg tablets, Chromebooks, Smartboards)
Library support
Accelerated Reader Parties and Banquet
Scholarships for Outdoor Ed
Supplement for Yosemite Trip
Snack Shack
Teacher Supply Stipend
There are several ways to make your donation:
School Office
Checks need to be made out to "Roosevelt PTA".  If you are donating cash, please make sure to put it in an envelope marked "PTA" when you visit the office.
Maze Days
This is the most common method. The PTA can accept your donation in person at Maze Days via cash, check, or credit card. Plus you'll get an immediate smile in return!
Online: Paypal
For your convenience, you can also donate using the PayPal from this site right now. PayPal accepts credit cards, or direct payments from your bank account.  Choose between a one-time payment or smaller monthly contributions for a specified duration:
Passive Fundraising
We've updated the ways that your dollars can further our programs through passive giving programs like Amazon Smile, eScrips and Box Tops for Education – read more here.
Summer Playdate
We've got one last summer playdate coming up – please join us for a fun morning connecting with other Roosevelt kids and parents ahead of the school year!
Time: Saturday, August 19th, 10-12am
Location: Stafford Park
Education Outside – Outdoor Science / Garden program
We're thrilled to be partnering with Education Outside to bring a full-time onsite educator to help run the garden and teach outdoor science in our newly-revitalized garden space.  This program is similar to ones offered in Los Altos, Palo Alto and Woodside.  The program is heavily subsidized, but we still need to raise $15,000 for the program.  To help kick off our fundraising, we've started a GoFundMe campaign.  Please consider donating to the campaign, and share it with your friends and relatives on Facebook and other channels! It's easy! Thanks to summer-support, we're 7% to our goal!
GoFundMe Link:  gf.me/u/c2aju