This Week
Monday, September 11

SSC Meeting 6PM Staff Lounge
Outside Education Starts

Tuesday, September 12
Friday, September 15

2nd Grade Special Person Presentation: 8:20-9:20AM
Middle School Dance at Roy Cloud: 6:30-8:30pm. Tickets are $10 at the office and $15 at the door.  Permission slip is needed. 
Important Dates
9/18-9/19

1st Grade Goal Setting Family Meetings

9/21

ELAC (English Learner Advisory Committee)
8:15am in the library

9/22

Principal of the Day – Victor Hernandez
PE+ Coordinator, arranging Beautiful Day
Attendance Posters are due to the office.
 Family Welcome Dinner Dance: 5:30PM

9/26
9/27

Student Of The Month Assembly – Grades 1-2: 9:00am

9/28

1st Trimester Progress Reports Sent Home.
Student of the Month Assembly – Grades 3-5: 9:00am
Student of the Month Assembly  – TK&K: Time TBD

9/29

Student of the Month Assembly – Grades 6-8: 9:00am
Bubble Parties!
School Spirit Day – Career Day!
Dress like your future career aspirations!

10/5
10/9
10/19

Great Shake Out Earthquake Drill

10/21

 Beautiful Day

10/24

First Grade San Francisco Zoo Field Trip
 PTA Meeting 6PM Staff Lounge 3rd Grade Presenting
Attendance Awareness Month
September is Attendance Awareness Month!  We are celebrating by having a poster contest to recognize the importance of attending school and making illness the only excuse!  Posters are to be original artwork on 8 1/2 by 11 inch paper.  Posters are due by September 22nd.  Winners will receive gift cards and their artwork will be displayed in the office as well as on the Roosevelt Facebook page.  Thank you to all our families who work hard to make sure our students are here on time daily!
Free Dress Fridays for the Year!
Want to earn Free Dress Frida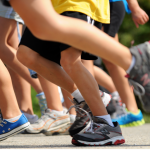 ys for the rest of the school year? After much hard work from our volunteers, we're ready to announce the details of our annual free-dress-earning fundraiser this year. It's easier than ever!  All you have to do is:
REGISTER FOR THE ROOSEVELT ROCKIN' JOG-A-THON!
(to be held Thursday, November 9th)
It's free and easy to register, here's how:
Parents can visit www.thegetmovincrew.com on their phone or computer.  (computer access available in the school office if needed)
Click on the yellow star that says,"Get Registered Parent Login"
Click on the green, "Create A Parent Login" bar
Enter your name, email, and password
Create your child's page, and add a picture if you want!
Share with friends and family through email, Facebook, and Twitter
You're done!  Start planning your Free Dress Friday outfits!
Free Dress Fridays for registrants will begin September 29th
Free Dress Fridays will also be given to those who participate in the fundraiser off-line by bringing in donations in the form of cash and checks starting Oct 13.
The Roosevelt Rockin' Jog-A-Thon is a new fundraiser to replace chocolate sales after last year's 7th grade class research uncovered the use of child labor by World's Finest Chocolate.  We thank our now-8th-graders for helping to improve our fundraising efforts. For more information visit: www.roosevelt-pta.com/jog