Thursday, October 24 was another night of great fun at Roosevelt!  Families came together for The Roosevelt PTA's annual Pumpkin/Cake Walk and Spooktacular Bingo!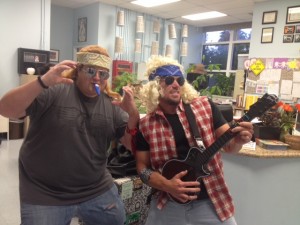 A big thank you to Kim Schiff for organizing the event and to the 2nd Grade families for volunteering. Another thank you to Lisa Bamberger and her father for the face painting, and of course to our wonderful Bingo callers, Jason Williams and Nate Anderson (aka The Common Core).
The committee would also like to recognize Webb Ranch in Portola Valley for donating the pumpkins and hay bales.
Thanks to all of our volunteers for Bingo/family fun night!
Emily K. – AmeriCorp. volunteer
Aldo and Sandy C. –  they brought the great character costumes!
Christine H.
Claudia M.
Zulma V.
Gloria J.
Gina V.
Gaiane V.
Claudia A.
Sandra R.
Griselda A.
Elicia T.
Alberto L.
Valerie and Dimas R.
Aurora G.
Guy and Trish T.
Victor F. – brought the bat balloons
A big thanks to everyone for all of your hard work to make it a terrific event! The parent volunteers helped with the decorations, set up, baking sweets, buying pizza, serving food, donating bingo prizes, clean up and much, much more! (If your name is not included or misspelled above, please let us know so that we can add/fix your name.)