Mark your calenders for the following events at Roosevelt: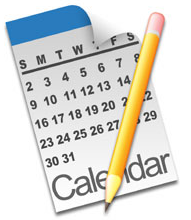 Monday, October 21
Book Fair Coin Drive Begins! Bring in your Pennies!
Awards Ceremony for grades 6, 7 & 8 at 9:15am in the cafeteria. Students who scored proficient or advanced on last spring's CST test will be receiving medals.

PTA Meeting at 6:00pm in Room 14 with a special presentation by the RCPD about school safety.  We will also find out how much was made from the chocolate fundraiser and discussing Spooktacular Bingo. All are welcome to attend and Spanish translation is available. (Free childcare is offered in the YMCA room.)
Do you want to have a vote at Monday night's meeting? Then bring in your membership form with your yearly dues ($5 for individual or $8 for family). Members have voting rights at tonight's and all future PTA meetings and general PTA assemblies.
Tuesday, October 22
Book Fair Coin Drive – Bring in your Nickels

Student Council Meeting – After School in Room 7
Wednesday, October 23
Book Fair Coin Drive – Bring in your Dimes
Restaurant Fundraiser – Pasta Pomodoro at 490 El Camino Real – All Day. Roosevelt will receive 20% of sales. Dine in or take out. Extra flyers available in the school office.

Thursday, October 24
Book Fair Coin Drive – Bring in your Quarters
Halloween Box Tops sheets due! Turn one in and receive a "treat"!
Parents are invited to come and meet with Principal Girardi over a cup of coffee and snacks at 8:00am in Room 1 (the room across the hall from the school office). Hear first hand about district and school news, talk about any issues or concerns you may have or just come for the coffee. This is also a great opportunity to meet other Roosevelt parents! This is a very casual meeting so if you can only drop in for a few minutes, you're still welcome to attend. Spanish translation is available for those that need it. If you have a younger child, you are welcome to bring him/her. Tell a friend!
Spooktacular Bingo! Come and join in on the fun starting at 5:30pm in the Cafeteria. Pizza, cookies and popcorn will be available at $1 each. Pumpkin & Cake Walk for .50 per game. Bingo hosted by Mr. Williams and Mr. Anderson!
If you are a 2nd grade parent, make sure you've signed up to help with this event.
Friday, October 25
Teacher Training Day – No School
Important Dates…
October 28 – November 1 – Fall Book Fair (5th grade families volunteering)
October 29 – Student Council Meeting – after school in Room 7
October 30 – Picture Make-up Day
October 31 – Halloween Parade at 8:15 – Downstairs Playground
November 5 – Student Council Meeting – after school in Room 7
November 5 – Site Council Meeting at 6:00pm in Room 14
November 7 – 8th Grade Parent Information Night at Sequoia High School at 6:30pm
November 11 – Veterans' Day – No School
November 18 – PTA Meeting at 6:00pm in Room 14
November 25 – 26 – Fall Parent/Teacher Conferences – No School
November 27 – 29 – Thanksgiving Holiday – No School
Cardboard Boxes…
The school garden committee is looking for cardboard boxes to put down all over the garden. If you have any cardboard boxes to donate, please drop them off at the school office or contact Megan Goulden at megan.goulden@gmail.com for more info.
Box Tops…
Don't forget to send in your Box Tops on the pumpkin sheet that came home to get a treat! Each Box Top earns our school 10¢, so each sheet turned in earns $1.00 for our school. Right now we have just over 600 students at Roosevelt, so we could earn $600+ just for turning in those sheets!
6th Grade Families…
If you haven't done so already, please send in your $50 deposit for the May Yosemite trip. Roosevelt has to give the Yosemite Institute a headcount of students attending and a deposit to hold our space. Checks may be made out to Roosevelt PTA. You may also pay via credit card in the school office or with the Donate button on the parent blog.
Money from Chocolate Sales…
If you still owe money from our World's Finest Chocolate sales, you should have received a notice last week. Please turn in any money due ASAP to the school office. The PTA has to send payment for all boxes taken and the money needs to be in the bank account.
Online Directory…
The 2013/2014 school directory is going green! We've switched to an online directory to save money on printing costs and to save paper. You will be able to access the directory from your home computer, smart phone or tablet. You can also update your family information any time during the year. The system will "graduate" your child every year, so you only have to enter the information just once. Each year you just need to verify that your information is correct.
Go to:  https://www.myschoolanywhere.com/new-family.a5w?fam=RooseveltSchool13838
Fill out the information for each Roosevelt student in your family
In the "Family Display Note" please fill in any languages spoken at home
Hit Save  — You're all done!
**If you tried to fill out the form earlier and were given an error message, please try again. The problem has been fixed!**
Spooktacular Bingo…
It's here! Roosevelt's 4th annual Spooktacular Bingo Night!  Thursday, Oct. 24th from 5:30-8:30. Doors open at 5:30, with our Pumpkin/cake walk beginning at 5:30.  Come in your favorite Halloween costume!  Pizza, popcorn, water for $1.00 each. 2$ for candy. Bingo will begin at 7pm.  .50cents per game. Pumpkin/cake walk, face painting, and Bingo with fabulous prizes! (Please note: The date has been changed due to the school holiday on Oct 25 and the availability of our bingo callers) Speaking of our bingo callers, what will Mr. Williams and Mr. Anderson come dressed as this year? Come to bingo night to find out!
If you are a 2nd grade parent, make sure you've signed up to help with this event.Please contact Kim Schiff at kbschiff@sbcglobal.net if you can help, Thank you!
Book Fair…
The Book Fair is being held during the week of October 28 – November 1. If you are a 5th grade parent, be sure to look for sign up sheets to volunteer at the Book Fair. Parents are asked to sign up for at least one time slot and/or to bring items for the evening event. All money raised from the coin drive and Book Fair sales go towards the purchase of new books for our school library and the classroom libraries.
Nutcraker…
Come see the Bay Area's most family-friendly Nutcracker performance at the historic Fox Theater in Redwood City on Friday, December 6th at 7:00pm andSunday, December 8th at 2:00pm. Ballet America's show has it all: professional dancers, alongside 100 local performers, including Roosevelt's very own Nicholas Schiff (2nd grade). Tickets range in price from $18-$39 and are available via the website: www.balletamerica.org. Get your tickets early before they sell out. See you at the ballet!
PTA Membership…
It's not too late to send in your PTA Membership form! Our PTA's dues to the CA PTA are due in November, so we can still accept memberships. Membership dues help to pay for insurance and for support services from the district, state, and national PTA. The cost is $5 for an individual membership and $8 for a family membership. Checks may be made out to Roosevelt PTA.
Fundraise While You Shop…
Way to go parents and friends that have been scanning receipts! We are almost at 50,000 points which equals $100 for our school. Keep scanning to help us earn a chance at some bonus points!! Do you have a smartphone? Take a picture of your weekly shopping receipts for Shoparoo points! If you have an iPhone or Android smartphone, download the free Shoparoo app today. www.shoparoo.com
Please don't forget to also sign up on escrip.com and register your Safeway Club card, credit cards and debit to help earn money for Roosevelt at stores such as Safeway, Old Navy, Home Depot, etc. (You must renew your Safeway Club card/escrip membership each year.)
Always look for the Box Tops logo on anything you buy. Each Box Top earns 10¢ for our school. Designate a spot in your house to save any Box Tops so that you can participate in the challenges all year long. Also don't forget to ask friends and family to collect Box Tops for you as well!
"Like" us on Facebook…
Please be sure to "Like" the Roosevelt page to get school and district updates and pictures from Roosevelt school events in your news feed.If you've liked our page, but don't see any updates in your news feed, it's because Facebook has been using a formula that hides posts for pages that don't pay for sponsored placements. What can you do? Go to our Facebook page and hover your mouse over the Liked box. Then make sure Get Notifications and Show in News Feed are checked. www.facebook.com/RooseveltElementarySchool
Have a great week!